Celebrating your child's first birthday doesn't have to mean letting them dive into a cake filled with sugar and processed oils! You can make a deliciously healthy cake for the baby- that will equally be tasty for your guests.
Our culture is to be social. As humans, we create traditions around food that help to shape who we are. Having a sense of community and joy has actually been shown to be more protective against disease than diet or exercise. (read more about that here!) And there is no need to stress about your baby over doing it by giving him his own cake. Most babies just play with it, more than they eat it. We added some raspberries to the cake for this cutie in the photo, and guess what he did? He pulled off the raspberries and left the rest of the cake alone 🙂 Kids are awesome. What I'm trying to say here, is you can have both! You can keep fun traditions- such as your babies first birthday cake, while not exposing him/her to foods you aren't ready for him to taste yet.
This post (and subsequently, ideas for this entire week #healthyparties) came from this email I received:
My daughter's first birthday is only a month away and I need some help figuring out a recipe for a healthy birthday cupcake.
I knew I wanted to make a cake without sugar or oils, so this is what we came up with. First- we mixed a banana with peaches in a food processor till it was smooth. Not only did this sweeten the cake naturally, but it also helped bind it altogether.
Then, using the fruit puree, I mixed up our cake mix. (full recipe below). For the baby, we poured it into a 6 inch round cake pan.
For the frosting, I wanted to keep it simple, organic, and natural. So, we used pure cream. For the babies cake, we just used cream. For the guests, I added 1 tablespoon of pure maple syrup.
To make whipped cream, pour your cream into a heavy stand mixer. Using a whisk attachment, whisk the cream until it's somewhat stiff and fluffy.
Then frost your cake. And of course, don't forget to top the cake with fruit!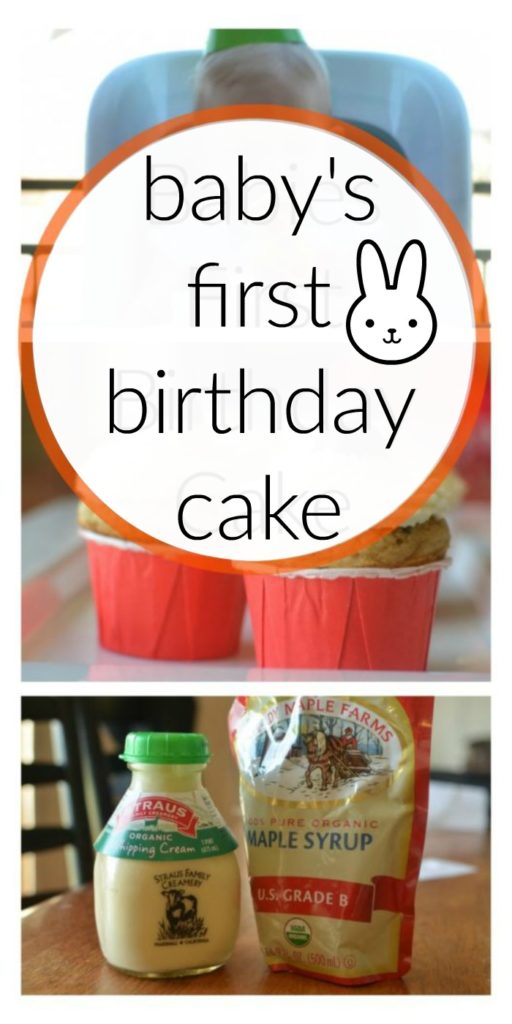 YUM!! I can't tell you how delicious these turned out! Really, it's like a muffin– except we didn't add sugar or oil. I couldn't have been more happy with the results.. and the kids? Well, they are all gone!
If you need some more ideas for healthier cakes, check out this link: